Paulo Franco
Paulo Franco is a Richmond, Virginia based singer/ songwriter. In terms of recording, it may seem that Franco has come to the game later in life than some, but his musical journey has been a lifelong story. Born to Colombian immigrants and raised in Washington D.C., Paulo embraces his heritage as a first generation American and his songs and style reflect that. As a child, his father turned him on to the country music of the United States via the Johnny Cash Variety show and on his own he discovered a love for rock n roll through the Stones and the Beatles. At the age of nine, he picked up a classical guitar and a musician was born. After years of playing in various cover bands and honing his chops, Paulo began writing his own material in earnest in 2010.

Paulo's songs are steeped in storytelling, often drawing from his own life and those around him. The sound is a seamless blend of the myriad of influences that have shaped both his everyday life and his musical tastes. Listeners will find glimpses of the eclectic style of Los Lobos, Robert Earl Keen's storytelling, John Prine's wit, The Stones' rock n roll heart, and the fluidity of The Grateful Dead often times infused with the rhythms of traditional Latin and Colombian music. He has recently included original Spanish songs into his songwriting, bringing a depth and a love of two cultures seldom seen during the same show or album.  Paulo switches his voice from country twang, to rock anthem, to Spanish troubadour with ease.  His vocals are so authentically Spanish that it's easy to forget you just heard him effortlessly sing a country tune in English.

In 2012, Paulo released his debut record, By The Light Of A Paper Moon regionally and began playing more and more shows around the Richmond area as well as other markets across the country. In the last few years he has had the honor of sharing the stage with the likes of Los Lobos, Robert Earl Keen, Drivin N Cryin, Eli Young Band, Ana Popovíc, Chris Knight, Rhett Miller (Old 97s), Walter Salas Humara (The Silos), Dan Baird and Homemade Sin, Adam Carroll, Cris Jacobs, Cory Branan and many others. 2016 saw the release of Paulo's latest work, The Last Card, an album No Depression calls "a phenomenal sophomore record." No Depression's Emily Hinde listed The Last Card at No. 2 of the year's best, behind only Avett Brothers.  Paste Magazine hails Franco's effort as possibly the most sincere album of the year. The Last Card, produced by Bob Rupe (The Silos, Cracker, Gutterball and Sparklehorse) and featuring a virtual who's who of Richmond musicians, shows that Paulo wears his heart on his sleeve musically and can hang with any songwriter working today.
Paulo closed out 2017 with a Tour of Colombia that included stops in Medellín, Cali, Roldanillo, Cartagena and Santa Marta.
Paulo and The Freightliners are currently working on new material both in English and Spanish for release in 2022.
Jimmy Slagle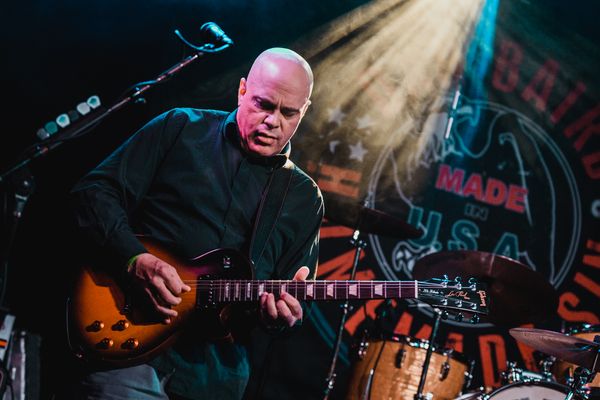 A guitarist since age 9, Jimmy has been spotted on stages up and down the Eastern Seaboard for over 30 years. From the traditional beginnings playing in garage bands in high school consequently moving on to regional touring bands spanning many different musical genres. In the late eighties thru the mid-nineties he performed and recorded with jam bands on the Northeast granola circuit alongside the likes of Rusted Root, MOE and Phish to name a few. In the Spring of '97 Jimmy relocated to Richmond Va and immediately immersed himself in the thriving music scene there. Since his arrival, he's toured and recorded with several successful Richmond based bands.
Dave Hess
Doug Thompson
Chad Bennett